If I can recall, it was within one week that Chanel's Black Satin nail polish was sold out completely from Chanel online, it's retailers, and sold for up to $100 on eBay. For a nail polish, you know that one coming from the always innovative Chanel would become trendy in that amount time.
So we give you Chanel's Robertson-a four color palette of bright, summery colors to be released in limited edition AND quantity this summer (at one point), and that point is now. So if you have a measly, yet expensive, $25 to spend on a single bottle of luxurious nail polish, we suggest you make your move right this second,
right here
.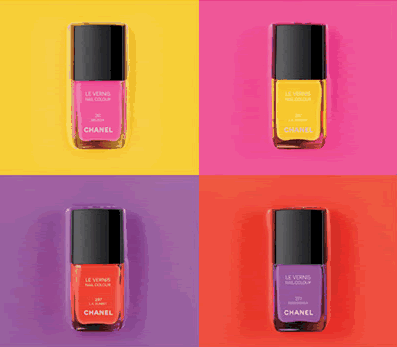 LA Sunset (matte yellow), Melrose (bright matte pink), Rodeo Drive (electric matte purple), and LA Sunset (bright matte orange-red)
In my only honest opinion, I would not be caught wearing yellow or any shade of matte grey in ANY season on my nails, due to making you look like you've either got a case of the Jaundice or look like a walking corpse!
-MF